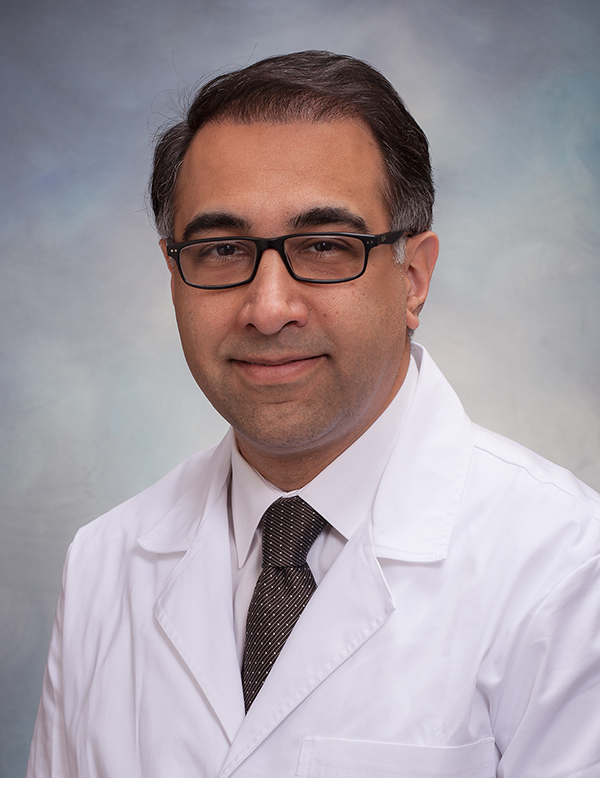 Ali Azadi, MD, MSc, MBA, FACOG, FPMRS
Dr. Azadi is a fellowship trained Urogynecologist and is double board certified in Gynecology and Urogynecology. He has a master's degree in Clinical Research in addition to a master's degree in Business Administration in Healthcare Management.
Dr. Azadi is also certified in MIGS (Practice Focus). He is among the first physicians to receive the new ABOG practice focus designation for Minimally Invasive Gynecological Surgeries.
He completed his residency in Obstetrics and Gynecology at University of Tennessee, Memphis in 2008. After finishing residency, he completed a three-year fellowship in Female Pelvic Medicine and Reconstructive Surgery (Urogynecology) under the directorship of Dr. Donald Ostergard.
During his training, he had the opportunity to have first-hand training from world-renown experts and pioneers in the field of Urogynecology and Minimally Invasive Gynecology. Dr. Azadi is proud that he had the unique opportunity to have training from Dr. Donald R. Ostergard, who is also known as one of the founders of Urogynecology. Dr. Ostergard started the first fellowship in the country and his fellows are leading the specialty at different institutions around the country. Dr. Azadi also had the opportunity to have Dr. Resad Pasic as a mentor. Dr. Pasic is known as a world leader in the field of Minimally Invasive Gynecology and has served as the president of AAGL (American Association of Gynecologic Laparoscopy).
After completion of his fellowship, Dr. Azadi joined University of Louisville and was involved in teaching residents and fellows. He has been actively involved in clinical research and has published in several peer-reviewed journals. He is one of the editors of the 7th edition of Urogynecology Textbook which is a classic reference book in the field of Urogynecology, Female Urology and Pelvic Surgery.
Dr. Azadi offers advanced minimally invasive approach to various pelvic floor problems such as pelvic organ prolapse, urinary and fecal incontinence and conditions such as overactive bladder, interstitial cystitis, genitourinary fistulas, Endometriosis and pelvic pain. He has expertise in robotic (da Vinci®) and laparoscopic surgeries as well as minimally invasive vaginal surgery. Dr. Azadi has performed more than 1,000 successful robotic surgeries including the most advanced single site approach. Dr. Azadi is a pioneer in performing V-NOTES hysterectomy which provides advantages of laparoscopic surgery without any abdominal incisions.
Due to his experience and contribution to existing literature, he is considered one of the experts in the management of patients with mesh complications. He has presented many articles and surgical videos at prestigious national and international scientific meetings such as International Urogynecological Association (IUGA), American Urogynecologic Society (AUGS) and AAGL. He has helped patients from around the country and has performed hundreds of mesh excision for the candidates who would benefit from this approach.
He has won several awards including prestigious CREOG faculty teaching award and "Top Doc" honors. He has been designated the surgeon for excellence awards such as COEMIG and SOERS (Surgeon of Excellence in Robotic and Minimally Invasive Gynecology).
Dr. Azadi is married and has 2 daughters. When he is not at work, his biggest joy is to spend time with his family.
For more information see Dr. Azadi's CV and list of publications.
---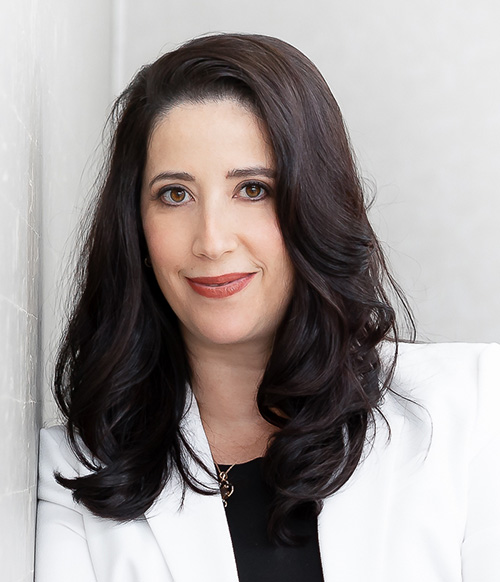 Sara Diaz Valentin, MD, MSc, FACOG, FPMRS
Dr. Diaz is dual board-certified in Obstetrics and Gynecology (OBGYN) and Female Pelvic Medicine & Reconstructive Surgery (FPMRS). Dr. Diaz completed her undergraduate and graduate programs at the University of Puerto Rico, graduated Magna cum laude with a Bachelors's in general sciences in 1996, graduated with honors from medical school in 2000, and completed an OBGYN residency at the University of Puerto Rico Medical Center in 2004. In 2009, she completed her FPMRS Fellowship and a Master's Degree in Clinical Research from the Indiana University School of Medicine, Indianapolis, Indiana. In addition to her Urogynecology training, she completed postgraduate training in pelvic floor neurophysiology.
Dr. Diaz joined the faculty at the University of Louisville, Kentucky, in 2009 as Assistant Professor, Division Director, and Program Director of the Urogynaecology Fellowship.
She has held numerous leadership positions throughout her career, served on several national committees with the American College of OBGYN, presented research projects at multiple international meetings, and lectured and proctored at the national level on advanced laparoscopic robotic surgery techniques. In addition, she founded and held the position of CEO of Puerto Rico Rise Up, a non-profit organization that helped the victims of Hurricane Maria in Puerto Rico from 2017 to 2019. She continues to chair the organization's board of directors.
Dr. Diaz believes in a patient-centered approach to solve pelvic floor problems and enjoys engaging her patients in their treatment plans with a shared decision-making process. Dr. Díaz offers the most advanced and least invasive vaginal, laparoscopic, and da Vinci ® robotic surgical treatments along with conservative approaches.
In her spare time, Dr. Diaz enjoys reading, traveling, and philanthropy.
---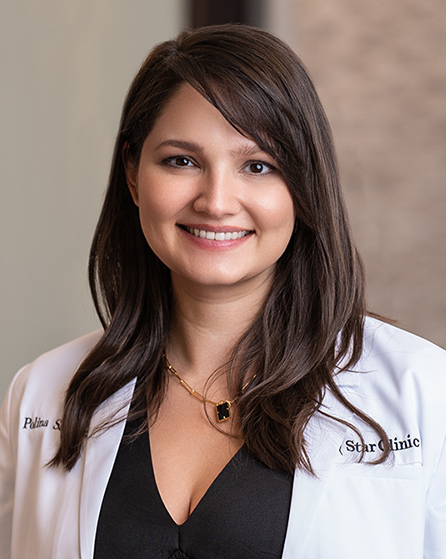 Polina Sawyer, MD, FACOG
Dr. Sawyer is a fellowship trained Urogynecologist and a board-certified OB/GYN. She completed her undergraduate degrees at the University of Maryland at College Park where she graduated with a dual degree in Neurophysiology and English Literature. She then attended Medical School at the State University of New York at Downstate Medical Center in Brooklyn, New York. She went on to complete residency training in Obstetrics and Gynecology at Emory University in Atlanta, Georgia, where she completed an additional fellowship in Advanced Pelvic Surgery. Finally, she completed a three-year fellowship in Female Pelvic Medicine and Reconstructive Surgery at the University of Texas Southwestern Medical Center in Dallas, Texas. In her fellowship, she trained under some of the preeminent leaders in the field of urogynecology, especially in the field of pelvic anatomy.
Her training is focused on the diagnosis and management of female pelvic floor disorders. These include common issues such as urinary incontinence and pelvic organ prolapse, as well as complex gynecologic and urologic conditions such as those resulting from childbirth injuries, genital fistulas, bladder pain, and sexual dysfunction. In the care of her patients, she offers conservative therapy, minimally invasive vaginal, laparoscopic, and robotic reconstructive surgical options as well as the full breadth of treatment options for incontinence including both surgical and non-surgical options.
Dr. Sawyer has several peer-reviewed publications, videos, and book chapters in the field of Female Pelvic Medicine and Reconstructive Surgery. Additionally, she has had numerous presentations at prestigious national and international meetings such as the American Urogynecologic Society (AUGS) and the Society of Gynecological Surgeons (SGS). Her research interests focus on the study of pelvic floor anatomy and on the role that cellular aging plays in the development of pelvic organ prolapse and other pelvic floor disorders.
Outside of the office, she enjoys spending time with her husband, practicing yoga, painting, and hiking.
---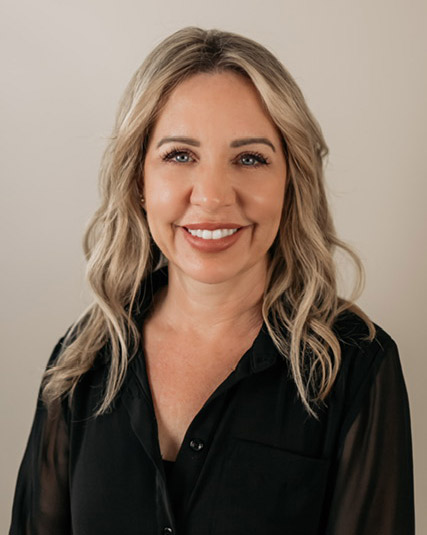 Jennifer Odle, RN, APN, FNP-C
Jennifer Odle is a nurse practitioner specializing in family medicine, hormone therapy, and women's health. Jennifer completed her Bachelor of Science in Nursing and then went on to earn her Master of Science degree at Grand Canyon University. She is Board Certified through the American Association of Nurse Practitioners (AANP) as a Family Nurse Practitioner. Jennifer's true passion lies in women's health, where she's been making a meaningful impact through her compassionate care and expertise. She aims to deliver personal, holistic care in which her patient is part of the decision-making process. She believes the best way to deliver high quality patient care is to acknowledge each patient as an individual and meet them at their level.
Jennifer is a multi-generation Arizona native and a dedicated nurse practitioner. Born and raised in Arizona, she has a deep appreciation for her home state, and a strong commitment to the well-being of its residents. In her spare time, she enjoys spending time with her husband and children, exploring the natural beauty of Arizona on hikes, paddleboarding, nurturing her house plant collection, or perfecting her golf swing. Jennifer joins Star Clinic with nearly 30 years of nursing experience including inpatient, outpatient, primary care, geriatrics and women's health.
---
Leigh Pavlik, PA-C
Leigh Pavlik, PA-C graduated from Midwestern PA school in Glendale, AZ. She then worked as a first assist in the operating room for several years following graduation, gaining experience in all types of surgery and specializing in robotic surgery. Leigh is excited to bring her surgical expertise to our group in the operating room and hospital settings.
Leigh was raised in Mesa, AZ and completed her undergraduate degree in Biology at Arizona State University. From a young age, Leigh was interested in medicine despite her parents' success in small business. Her family taught her the importance of hard work and family values. Leigh enjoys spending time with her husband and three children. She is an outdoor enthusiast who enjoys hiking, camping and running.
---
Star Clinic's Surgeons
Left to Right: Dr. Polina Sawyer, Dr. Ali Azadi, and Dr. Sara Diaz